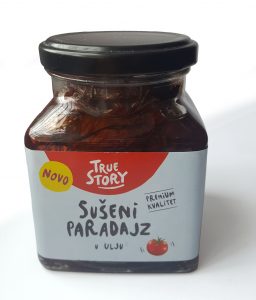 Ingredients: Dried tomatoes, refined sunflower oil, olive oil, sea salt.
Selected tomato varieties are used for this product.
After harvesting, tomatoes have been treated and dried by using ACM-2000 technology at temperatures ensuring that the nutritional value of products is preserved to the greatest extent. Dried tomatoes are packed in a mixture of sunflower and olive oil and then pasteurized.
Contains no additives or preservatives.
Serving suggestion:
Ready-to-eat food or addition to meals and salads.
Nutritional value for 100g of product
Energy value:
1782 kJ/426 kcal
Fat content:
23.26 g
Total saturated fatty acids:
1.09 g
Carbohydrate content:
44.21 g
Total sugar content:
12.20 g
Protein content:
10.02 g
NaCl content:
1.42 g